PROFILE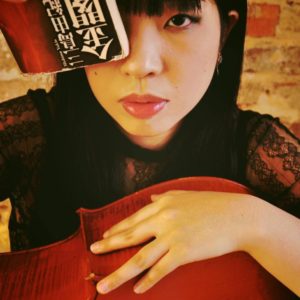 Cellist:  Alice Uehara (上原ありす) 
Born from Tokyo, I began cello at 5 years old.
I am activating in Frankfurt, I want to be a cellist and a writer.
Education

10/2013 –                        Hochschule für Musik Mainz (Master)
04/2009-03/2013     Tokyo National University of the Arts (Bachelor)
04/2006-03/2009     The Music High School Attached to the faculty of Music, Tokyo University of the Arts
Teachers

Cello:
Wolfgang Böettcher,  Manuel Fischer-Dieskau,  Sabine Krams,  Nobuko Zamayaki,
Ken-ichiro Yasuda,  Tomoya Kikuchi,  Mari Masumoto,  Mari Endo,  Miho Nakamura, Youji Usui
Chamber music:
Kazuki Sawa,  Kaoru Hanasaki,  Seizou Azuma,  Chiyoko Noguchi,  Kei Ito,  Rieko Suzuki,
Natsumi Tamai,  Hiroyuki Kato
Record of Awards
"The 18th Japan Classical Music Competition"
First place in "The 3rd Tateshina Music Competition"
highest rank in "The 7th Burkhard International Music Competition"
"The 66th All Japan Student Music Competition" elected University Department
04/2010 Performance with Ryuichi Sakamoto in the educational program "schola" (broadcast by NHK)
2011, the leading actress and cello in the play "Alice's Wonder zoo" at the project "Play mit Gei-Dai" in Hoku Topia (Organizer: The Performing Arts Center, Tokyo National University of the Arts)
From 2012,  participate in East Japan Reconstruction Assistance "Hana Fundraising Charity LIVE".
08/2013, Performance with Toshiyuki Watanabe and Masashi Sada at the "Japan Philharmonic Orchestra Subscription Concerts"
Since 2015 Beethoven Orchester Hessen – Solocellist.
Since 2017 appearance as soloist and "Duo Fuga" with flute player Mutsumi Ito